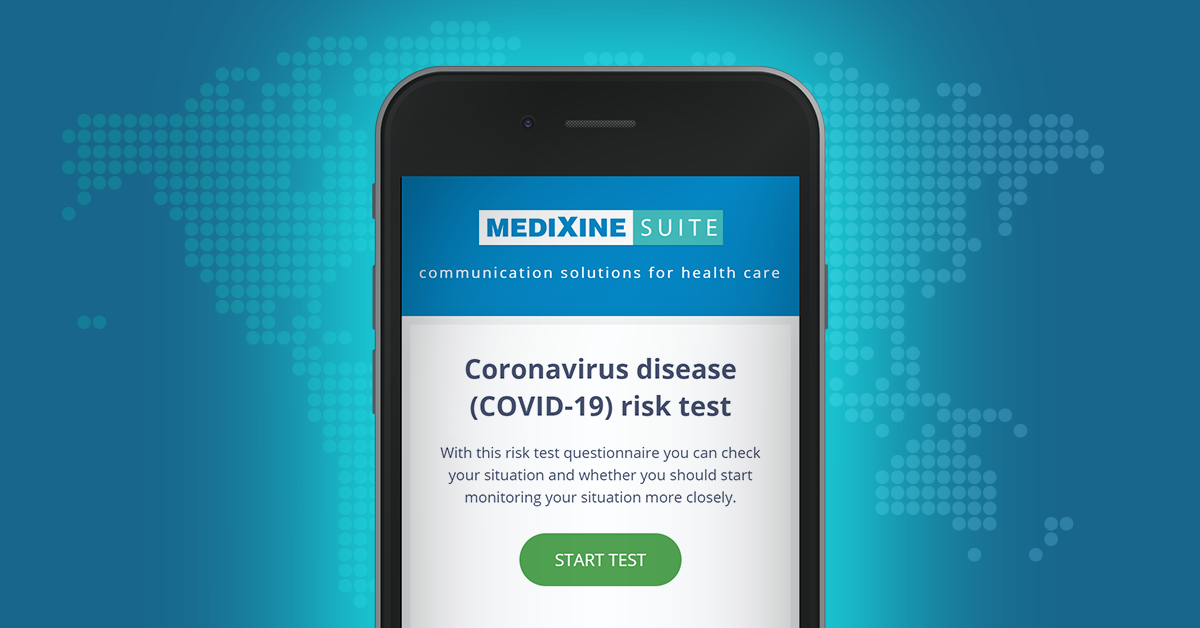 Medixine Suite configured for Corona virus based on WHO's material

Now ready to be localized for production use

Medixine Suite is in use in several countries for various use cases

CE marked medical solution
Medixine can help by allowing for efficient population screening and treatment follow-up remotely – without risking transmission of the disease to medical professionals or other patients. Medixine has an extensive experience in handling diseases with advanced connected care solutions. Our solution is designed to give all the connected care tools needed in a user friendly, proven and efficient way. With a scalable and configurable solution that is currently in production Medixine can supply the solution without extensive resources from customers.
Medixine has finished the preliminary configuration and workflows to the platform for coronavirus specific requirements. We are now ready to proceed to bringing the solution to use by meeting the country or area specific requirements together with our customers and partners.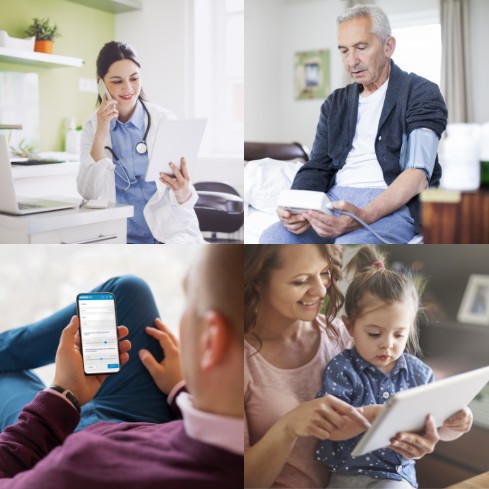 Medixine solution
Our solution consists of three main parts
Initial screening and risk evaluation

Questionnaire to find people with key symptoms and rule-based processes to forward them to the appropriate level of treatment. Questionnaires are easily modified when needed.
Automatic follow-up of cases that were not forwarded
Video visits and chats to clarify unclear cases
Video visits and chats to replace some of the appointments with doctors or nurses

Remote monitoring follow-up and communication without human contact and a risk of infection

Vital signs remote monitoring to track e.g. body temperature
Follow-up questionnaires for patients and people in quarantine.

Sharing your specific information and guidance

Providing reliable information and reducing unnecessary concerns
In countries where the penetration of mobile and other internet connected devices is high, a connected care solution that does not require proprietary apps is an extremely fast and efficient way to start population screening and follow-up. The only thing that needs to be communicated to people is the URL (web-address) of the service. Medixine Suite can be used on mobile phones, tablets or PCs, without installing any dedicated apps.
1. Initial screening and risk evaluation
Advanced questionnaires are the basis for coronavirus screening. They can be targeted to a selected audience or to the whole population in an certain area. Rule-based outcomes are defined based on the results. Questionnaires can also be easily updated and adjusted.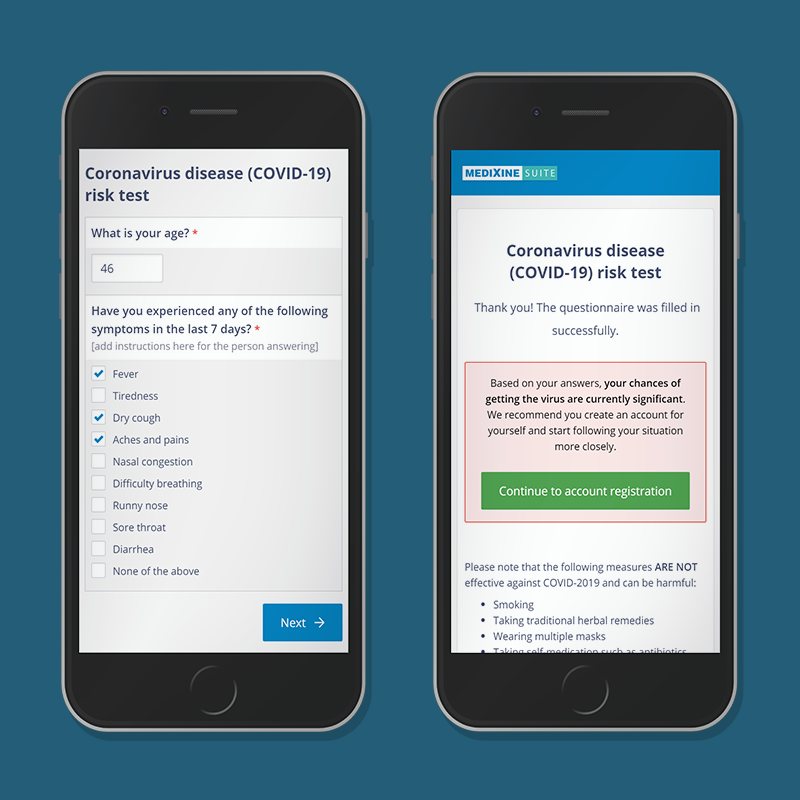 National, country specific questionnaires and processes can be easily configured to the solution. Questionnaires also take into account other health risks than coronavirus and can provide additional information and guide patients to the right caregiver. The appropriate care pathway or workflow can be specified case by case.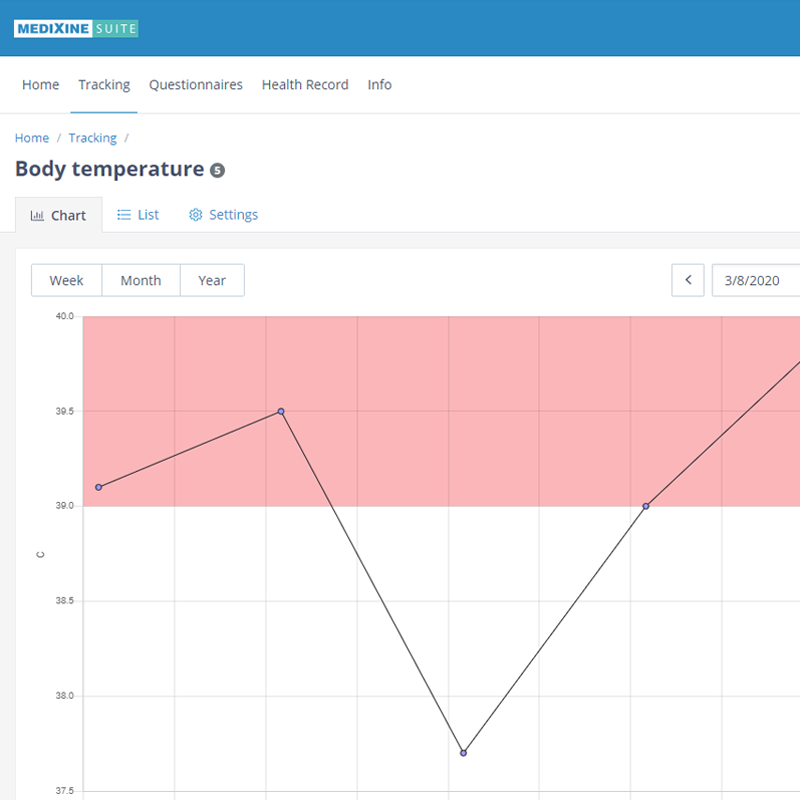 2. Remote follow-up and care
If there is a risk of transmitting the disease the patient is usually placed in a quarantine either in a hospital, home or other location. Medixine Suite remote monitoring automatically transmits patients' questionnaire answers and measurements to the platform. The solution has screening and flagging functions that can evaluate the risk class and flag the patients needing medical care to the professional's attention. Available measurements include body temperature, pulse oximetry and blood pressure.
The solution also includes a chat, secure messaging and video meetings so that medical professionals can easily contact their patients remotely. This also gives the patients an efficient way to communicate with medical professionals when phone lines are busy, without a risk of transmitting the disease.
Care pathways (or workflows) can be tailored according to need and can include all the tools of the system (questionnaires, video meetings, chat, messaging, monitoring measurements). The solution can also be used to monitor other conditions such as diabetes and asthma.
Treatment follow-up
Patients that are initially being treated at home and patients that have been discharged from hospital can be monitored using treatment follow-up questionnaires and remote monitoring of vital signs. Again, rule based processes help professionals screen patients.
3. Information and guidance
Information sharing can be included in the overall solution. Share localized, reliable information and instructions to prevent unnecessary concerns. If needed, you can also open a chat for the citizens to discuss their fears and get more support.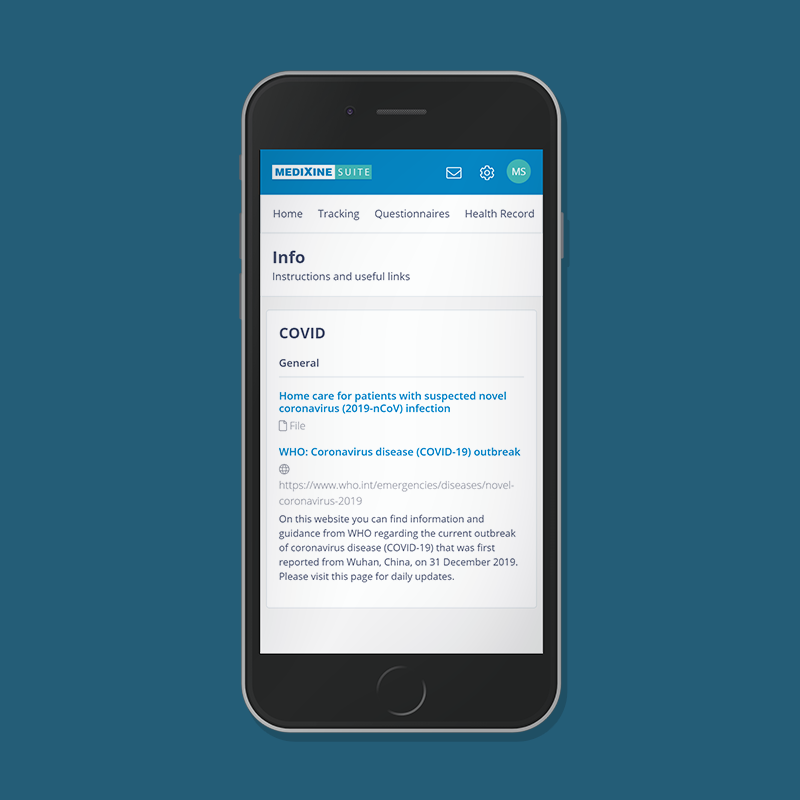 The Medixine Suite solution is ready for production and a demo version is available.
For more information, please contact our CEO Lasse Rousi: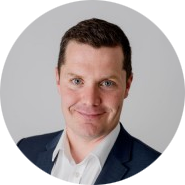 Lasse Rousi
lasse.rousi@medixine.com
+358 40 184 5793